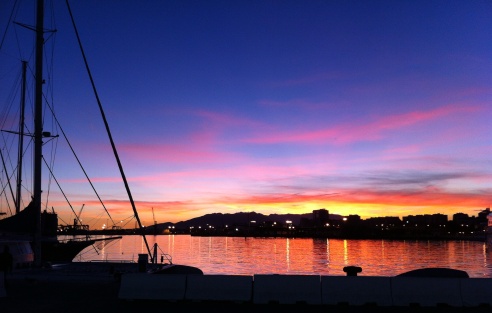 Muelle Uno
is a large open-space leisure and recreation area which opened just over 2 years ago as part the ambitious remodelling of MalagaPort. With more than 50 shops and restaurants as well as cultural activities and events, it's a required stop for anyone visiting Málaga.
Just a short walk from Malaga's buzzing city centre,
Muelle Uno is the perfect place to finish up your city tour. Why? Well here's 9 reasons…
1) The views: The large terrace area and wide selection of bars and restaurants provide the ideal location to sit and take in the breathtaking views of Málaga port and Málaga's city's main attractions – The Cathedral and the Alcazaba – providing the perfect backdrop. The sunset's aren't too bad either! (See photo above)
2) The shops: Large name brands as well as smaller specialised businesses have establishments in Muelle Uno. If you're looking for the latest fashion accessories, shoes and other complements, you won't be disappointed. This shopping centre is open from midday until midnight in the summer months.
3) Culture: During the summer months (July & August) there's a wide selection of activities available to visitors including: Open air cinema, specialised workshops and live music concerts.
4) The Street Markets: Muelle Uno's main boulevard also hosts various street markets which sell ecological products, arts and crafts, natural products and more. The perfect place to find those elusive holiday gifts for family and friends back home!
5) Classical Music Recitals: If you love classical music, then you'll have to head down to the Chapel in the port where the Malaga Provincial Youth Orchestra offers classical music recitals every Sunday at 9:00pm (July & August).
6) DJ Sessions and Live Saxophone: Watch the amazing sunset's listening to the DJ sessions every Wednesday evening or live saxophone every Thursday; both take place at 9:00pm.
7) The Food: You won't leave Muelle Uno hungry, that's for sure. There's a wide and varied selection of restaurants and bars including: A Michelin star restaurant, Pizzeria, Typical Malaga fish restaurants, Mexican, Icecream parlour's and Tapas bars to name but a few.
8) Children's activities: Muelle Uno is extremely child friendly with various areas dedicated to Kid's parks with fun climbing frames and swings. There are also muppet shows and the possibility of hiring bicycles and scooter to whiz around the port on!