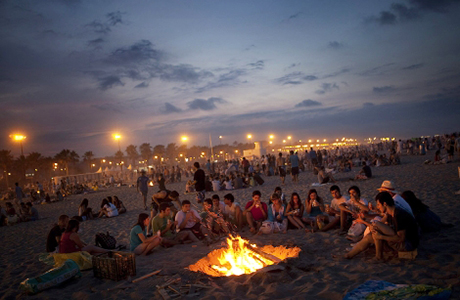 The evening of
23 June
,
St John's Eve
, is the eve of celebration before the Feast Day of
St John the Baptist
. The
Gospel of Luke
(Luke 1:36, 56–57) states that John was born about six months before
Jesus
, therefore the feast of John the Baptist was fixed on 24 June six months before
Christmas
. This feast day is one of the very few saints' days to mark the supposed anniversary of the birth, rather than the death, of the saint commemorated.
The Feast of St John coincides with the June
solstice
also referred to as
Midsummer
. The Christian
holy day
is fixed at 24 June but in some countries, festivities are celebrated the night before on St John's Eve.
What do people do?
Saint John the Baptist Day is celebrated in many villages and towns. Many events take place on the evening of June 23. People celebrate Saint John the Baptist Day by:
Lighting bonfires, jumping over small fires (correfocs) and setting off fireworks.
Writing wishes or sins on a piece of paper and burning the paper.
Diving or bathing in dew, a stream, a river or the sea.
Staying awake all night near a small fire.
Watching the sun rise on the morning of June 24.
Collecting and cooking with the herbs thyme, rosemary and verbena.