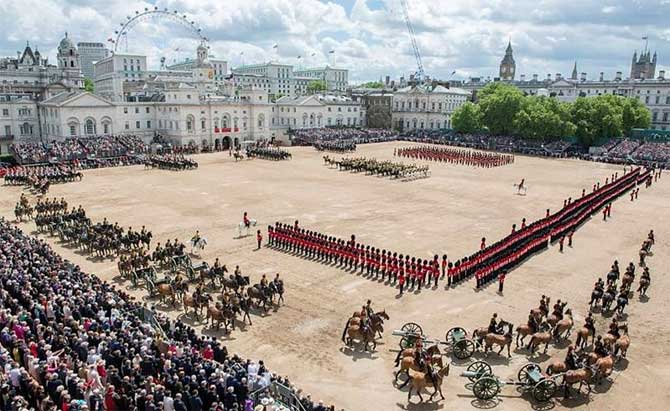 Trooping the Colour / Queen's Birthday Parade
In June each year the highlight of the ceremonial calendar, Trooping the Colour, also known as 'The Queen's Birthday Parade' takes place on Horse Guards Parade in London.
The dates for Trooping the Colour and the two reviews in 2016 are:
Major General's Review - Saturday 28th May.
The Colonel's Review - Saturday 4th June
Queen's Birthday Parade - Saturday 11th June
The Coldstream Guards Colour will be Trooped at the Queen's Birthday Parade this year.
Although The Queen was born on 21 April, it has long been the tradition to celebrate the Sovereign's Birthday in the summer.
More than 1,400 officers and men and approximately 400 musicians from the Massed Bands of the Household Division take part in Trooping the Colour and the Reviews which are full dress rehearsals for the Queen's Birthday Parade.
The Ceremony
The Queen travels down The Mall from Buckingham Palace, by carriage, with a Sovereign's escort from the Household Cavalry Mounted Regiment.
As the clock on Horse Guards chimes eleven Her Majesty The Queen arrives to take the Royal Salute from the officers and men of the Household Division on parade.
After the salute The Queen rides up and down the ranks, in her carriage, inspecting the troops on parade.
After the massed bands have performed a musical 'troop', the Regimental Colour being trooped is escorted down the ranks of Guards.
The Foot Guards and the Household Cavalry then march past Her Majesty, and The King's Troop, Royal Horse Artillery, rank past with their Guns.
The Queen, in a carriage, rides back to Buckingham Palace at the head of her Guards, before taking the salute at the Palace from a dais in front of the palace railings as the troops march past on the way to their barracks.
Her Majesty The Queen joins other members of the Royal Family on the balcony of Buckingham Palace to watch a fly-past by the Royal Air Force at 1 'o' clock.
About The Colour
Trooping the Colour originated from traditional preparations for battle when a Regiment's Colour was carried, or "trooped", down the ranks so that they could be seen and recognised by the soldiers who would use them as a rallying point in the confusion of battle.